Unexpected water damage happens all over the country, all of the time. At Miller Restoration, we have a 24/7/365 emergency service to make sure that you can catch it in time. And when we get on the premises, our technicians make it good again.
So, here are two local successful stories of recent restorations at customers' homes.
Water Heater: Leaky Tank
A leaky tank is a very common type of of "slow leak" happening in basements. One drop at a time, water heaters do not cause floods, but over days, the damage caused can become a nightmare. Carpets and wooden floors suffer a lot from several hours of wetness.
Adam was referred to Miller Restoration by his insurance carrier Encompass for a water heater leak in his basement. Adam stated:
"Miller Restoration responded very promptly, on a holiday weekend. They explained their assessment clearly and were excellent overall."
Adam informed us that he would recommend our company to his family and friends.
Sump Pump Failure
Sump pump are practical devices keeping water level from raising above your basement floor. That's when they work.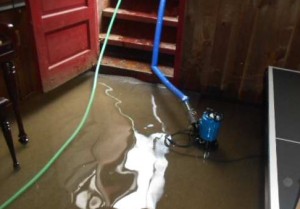 Unfortunately, a simple sump pump failure can cause a tiny flood in your house in a matter of hours. The sump pump can simply burn out, or an electrical breaker may pop off. Floors, carpets and furniture have to be restored when there's more than a few inches of water in a basement.
Connie was referred by her local insurance agent, with Allstate insurance, due to her sump pump failing. When Connie arrived home from work, she and her husband noticed a strange smell coming from the basement. They had discovered that the sump pump had failed (probably during a recent storm) and they had water damage. Connie said:
"I was devastated with the loss in my basement. The technician Chad could not have been any nicer. He was very kind and professional. The technicians Maria and Ryan were also very nice. The technicians and the service were very exceptional."
So if you find out you have water damage in your basement, don't hesitate: call us now. And we'll make it good again.