Here at Miller Restoration, we know that water can do much more than quench your thirst. Or give baby James a nice bath. When let loose, in "disaster" contexts, water can ruin your property. We handle cases of
water damage to properties on a daily basis and this post should feel like a little ray of sunshine: damages can be restored.
Wether you're experiencing what at first seemed like a really benign refrigerator line break leak or if your whole house is suffering from generally bad plumbing, as a property owner, you're bound to have to deal with water damage sooner or later. So let's stay optimistic because at Miller Restoration, we make it good again!
Two Satisfied Customers Speak: Water Damage
Last week, Nancy called us through her insurance carrier Encompass. Nancy's home was affected by a refrigerator water line break. Who knew that an electric appliance could hold so much water? And then cause so much damage with a little leak?
Miller Restoration's technicians arrived promptly on site to evaluate the damage. They then proceeded to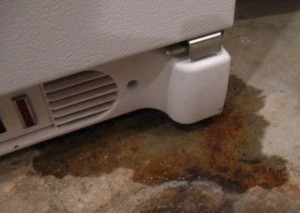 get to work in order to put back the house like it was before the fridge incident. It wasn't long before all the work was finished and Nancy could start living normally in her house again.
When asked about the service she received from Miller Restoration, Nancy stated that, on a scale of 1-10, the technicians deserved an 11. They did a great job!
In around the same time frame (last week), yet another satisfied customer used Miller Restoration's services through his insurance company Liberty Mutual. Dan was referred to Miller Restoration by a local contractor since he had multiple plumbing leaks throughout his home. Another instance of water running loose and causing a mess!
After all the water damage have been fixed, Dan described Miller Restoration's company with these three words: Quality, Prompt, Responsive. And this is exactly in line with what we are trying to do for all of our customers. At Miller Restoration, we do excellent, quality work. We're on site quickly. And we listen to the needs by remaining responsive at all times. Dan also wanted to add that our technicians are great and took the time to compliment the project manager's impeccable work!
Now, whenever water runs on the floor because of an accident or negligence, you know how to call to get things back to normal ASAP. Plumbing problems, leaking refrigerators … water is not only there to quench your thirst!