Can an air conditioning unit really damage your house? Here's an expert's answer: if it leaks, yes. And especially if it takes you a while to figure out where the leak is coming from and the water had plenty of time to cause damage to the property. At Miller Restoration, we see leaky AC units on a regular basis, so my advice would be to check in on yours very often to spot leaks early on. On the bright side: we almost always catch it in time to make it good again. That's what we do! 🙂
Air Conditioning Nightmare: Leaky, leaky!
Carrie, a customer has an air conditioning unit located in the attic of the house. So it's no big surprise that
the leak had already caused severe damage to the house when she realized and called us. Carrie is a customer referred to Miller Restoration by her insurance company, State Farm, and she was delighted with her experience. The damage restoration was quick and thorough.
Here's Carrie complimenting Miller Restoration, in her own words:
"They did an excellent job with monitor removal, cleanup, and prepping for repairs. Removal was very fast. The technicians arrived on time and were courteous."
In closing, Carrie stated that she would recommend Miller Restoration to her family and friends.
Sprinklers Save Lives, Ruin Everything
On similar water damage issue, another satisfied customer of Miller Restoration, Lisa, had her business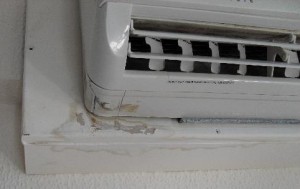 suffer a fire incident recently. Luckily, sprinklers were installed and fully functioned during the fire, thus preventing heavy losses to Lisa's business. On the downside though, sprinklers caused a lot of water damage throughout the property.
Her insurance carrier, The Hartford, referred Miller Restoration to fully restore her business. And everything was "made good again" in a quick and professional manner by our team.
After the work has been completed, Lisa was asked about the service she received. As she stated:  
"I would definitely recommend your service to other businesses. Sam did a great job communicating with us regularly. Miller Restoration responded to the emergency promptly and the employees presented themselves professionally."
So, if you or someone you know incurs significant property damage by an AC unit of from sprinklers, think of calling Miller Restoration for a prompt and courteous service.